Job opening: Front-End Web Developer at Sogeo Company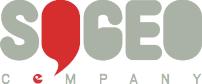 Full-Time
Amsterdam, the Netherlands
What do we do?
Sogeo Company creates location-aware communities that provide people with personal suggestions about where to go and what to do. Sogeo Company developed its first application named New Breeders for the action sports market, which is also accessible through an iPhone application. Currently, Sogeo Company is working on an advanced location services platform for mobile and web.
How do we work?
Our growing team continuously challenges itself by designing and creating powerful and innovative products that stand out by their ease of use and elegance. We work in an international, fun and vivid atmosphere. Our office is located in the Duintjer CS building on the Vijzelstraat in the centre of Amsterdam, where many creative companies and internet startups can be found.
Who are we looking for?
We are looking for a highly talented and experienced front-end web developer to strengthen our team. You are ambitious and looking for a working environment that challenges you to get the best out of yourself. You are energetic and you have a 'can do' mentality.
You have an appropriate mix of love and hate for web programming. You have nightly builds of new browsers to test cool new features of HTML5 and CSS3 but you are well aware of and have experience dealing with browser quirks and bugs and the idiosyncrasies of the various IE releases. You can do complex JavaScript programming even without using external libraries.
You will both work on developing the front end of the Sogeo platform as well as perform implementations for customers.
Requirements
At least 5 years of relevant professional experience
Versatile programming skills with an excellent knowledge of web technologies and principles
Extensive experience with JavaScript, (X)HTML, CSS
Experience with other programming languages is a big plus
You aim at delivering clean, high-quality, elegant code
Hands-on, goal-oriented, get-the-job-done mentality
Affinity with location based services
Good written and spoken English is essential
What do we offer?
We offer competitive compensation, a great work environment, and the opportunity to participate in our employee stock plan.
Are you excited?
If you are excited about this opportunity please mail us your resume, motivation, portfolio or samples of work.
Contact details
Vijzelstraat 72, unit 5.02.01
1017 HL Amsterdam
The Netherlands
Phone: +31 (0)20 528 66 04
Mail: recruitment at sogeocompany dot com