Fronteers 2009 venue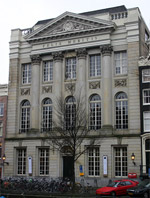 Fronteers 2009 (5 and 6 November 2009) took place in Felix Meritis, a venerable 200-year-old venue that was originally a club for well-to-do 18th century science aficionados, then became the headquarters of the Dutch Communist Party for a while, and then a theatre and a conference venue.
Address
Felix Meritis
Keizersgracht 324
1016 EZ Amsterdam
Route description
By public transport
From Central Station
Tram 1, 2 or 5; stop Spui or
Tram 13 or 17; stop Westermarkt
By car (not advised)
Ring road (A10 Ring West)
Exit S105 (Geuzenveld)
Drive in the direction of the centre (Jan van Galenstraat)
Turn right at the Nassaukade
Turn left at the traffic lights (Rozengracht)
Turn right on the Westermarkt (Keizersgracht)
You can park your car safely in car park Europarking, Marnixstraat 250 (a 5 minutes walk from Felix Meritis).
Hotels
Unlike last year's venue, this venue was located in the center of Amsterdam to an even larger degree, so we hope nobody had a problem finding an (affordable) place to stay.
Restaurants
A (warm) lunch on both days was included with the tickets.