Fronteers 2012 Jam Session
For the third year in a row, we organized the Jam Session on the night before the conference, Wedenesday 3 October from 21:00 to 01:00.
This time we even recorded all the sessions so you can watch them online later. The idea was simple: we hired a bar, a projector and a screen and we paid the bill afterwards. You did the talking, 10 minutes per presentation, we have filled up the place with front-end nerds.
Roughly 175 people visited the Jam Session. Therefore we hired the bars upstairs and downstairs.
The Jam Session was overcrowded, noisy, hot and steamy. We really had a good time!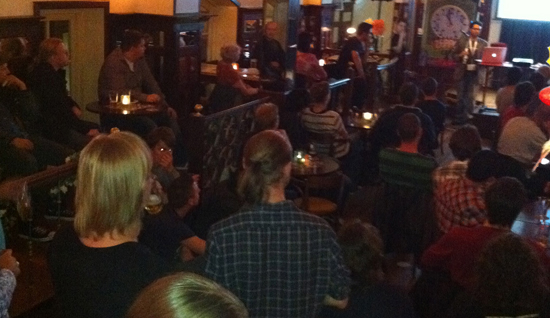 The 2012 Jams
The video recordings of all Jam Sessions are online now.
Attendees
Bespalov Eduard
Bram Van Wichelen
Claudia Kosny
Dan
Dieter Raber
Dirk Pennings
Guido Wesdorp
Helene Jönsson
Hilko Kolbeek
Inge Vlaar
Jacob Bertelsen
Jerry Palm
Johan Smits
Kristin Rohleder
Lionel Scholtes
Mads Rode
Manfred Andres
Martin Ivanov
Martin Lundgren
Martin Savelkoul
Michaela Kaulmann
Motiejus Bagdonas
Nicklas Herholdt
Peter Müller
Robbert Broersma
Robin van Diesen
Sander van Lambalgen
Victor Bastiaansen
Victor Zuydweg
Details
When: Wednesday October 3th, 21:00-01:00
Location: Kapitein Zeppos
Address: Gebed Zonder End 5, 1012 HS Amsterdam